Local gastronomy composes a huge chunk of a city, a region, or a country's culture- so be sure to include your palate in your travels! Granada is brimming with restaurants that serve up a typical Andalucían fare, so don't pass up the opportunity to taste the region's best. From centuries-old recipes to new and modern spins on traditional dishes, here are a few well-known eateries worth stopping in:
Casa Pepillo
Carrera del Darro, 15
Tlf: 958 22 13 71
Go here for: Genuine Andalucían cuisine and decoration.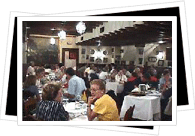 Sevilla
c/ Oficios, 12
Tlf: 958 22 82 90
Go here for: Has been serving typical "Granadino" dishes since the 1930's, when it was a favorite of Federico García Lorca, Manuel de Falla, and the rest of Granada's artistic crowd.
Sibari
Plaza Nueva, 3
Tlf: 985 22 77 56
Go here for: Andalucían and local favorites- like the tortilla sacromonte and paella- fill up the menu.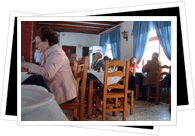 Manolo
Plaza de Bib-Rambla, s/n
Tlf: 958 26 20 70
Go here for: For typical Andalucían dishes and a wide range of dishes unique to Granada, Manolo is an atmospheric, noisy, and friendly restaurant.
El Ladrillo II
c/ Panaderos, 13
Tlf: 958 29 26 51
Go here for: Listen to sevillanas music while indulging on huge but inexpensive portions of typical cuisine.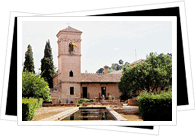 Parador de Granada
c/ Real de Alhambra
Tlf: 958 22 14 04
Go here for: On the swanky end of the restaurant scale, eat typical but pricey food with a view of the Alhambra.
Cunini
Plaza de Pescadería
Tlf: 958 25 07 77
Go here for: A slightly higher-end restaurant, Cunini specializes in Andalucían and Spanish seafood dishes.
Taberna Salinas
c/ Elvira, 13
Tlf: 958 22 14 11
Go here for: With lots of grilled meats and seafood, Taberna Salinas is the ideal spot for a light but authentic dinner.
Botánico Café
c/ Málaga, 3
Tlf: 958 27 15 98
Go here for: Calling itself a "fusion" restaurant, a trendy university crowd heads here for its unique twist on traditional Granada cuisine.