About Tapas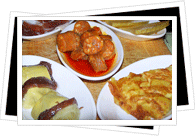 Tapas, an originally humble Spanish tradition that has bloomed into an international phenomenon, is essentially the fusion of lively bar-hopping and glorified snacking. Tapas, like flamenco, began in Andalucía. To keep the pesky flies out of their customers' drinks, innovative bartenders took to covering the glasses- and their precious contents- with a small plate.
Soon, little snacks- along the lines of a simple sandwich or a slice or two of ham- began to appear on these covers, or "tapas," and were naturally a big hit amongst the clientele. Capitalizing on the idea and its possibilities, bar owners began to get crafty with their tapas in an effort to lure customers out of the competition's bars and into theirs.
Traditionally, tapas came free with each drink that a customer ordered. Nowadays, bars throughout Spain tend to charge customers for tapas- don't worry though, they're still an inexpensive way to fill up! Visitors in Granada, however, are in luck; Granada is essentially the home of free tapas- so order a drink and you're sure to get some scrumptious munchies.
So, when in Granada, don't limit yourself to fancy sit-down meals in an effort to get a taste of the best of the local cuisine. Instead, bar-hop your way around Granada's tapas scene with a group of friends. Elbow your way up to the bar, order a beer or a glass of sherry, and indulge in a spread of tapas dishes.
Tapas is all about kicking back and having a great time- there is certainly no single way to do it! Stay in one bar all night or migrate from bar to bar testing the tapas, the ambiance, and your alcohol tolerance. When the atmosphere is hopping, the tapas tasty, and the conversation lively, you can easily see why an evening "de tapeo" is a fun, filling, and very Spanish substitute to dinner.
Tapas Bars in Granada
Bar Sabanilla
c/ San Sebastián, 14
Tlf: 659 11 85 83
Go here for: Granada's oldest bar is tricky to find but boasts a unique atmosphere and free tapas.
La Bella y La Bestia
Carrera del Darro, 37
Go here for: Along with generous portions of mouth-watering tapas, the bar is also known for its friendly atmosphere and its good music.
La Riviera
c/ Cetti Meriém, 7
Tlf: 958 22 79 69
Go here for: A popular pick amongst locals and tourists, La Riviera is an classic choice for great- and free!- tapas.
D'Cuadros
c/ Conde Infanta
Go here for: A newish bar on Granada's tapas scene, D'Cuadros' modern atmosphere makes it a lively tapas pick for young crowds- especially at night.
Las Cuevas del Albaicín
Caldería Nueva
Tlf: 958 22 68 33
Go here for: With great tapas and pizzas, Las Cuevas is always packed- which is a good sign!
Bar Aliatar "Los Caracoles"
Plaza Aliatar
Go here for: Bar Aliatar, nicknamed Los Caracoles, is a popular Granada classic for tapas. It's especially famous for- surprise, surprise- its caracoles (snails).
El Yunque
Plaza San Miguel Bajo, 3
Tlf: 958 80 00 90
Go here for: Sit out on the terrace and try pollo en salsa de almendras (chicken in almond sauce or lomo alpujarreño (pork loin)- El Yunque's specialties.
Rabo de Nube
Paseo de los Tristes, 1
Tlf: 958 22 04 21
Go here for: One of the many terrace bars set on Paseo de los Tristes, your best bet is to order a "tabla" (paté and cheese board).
Bodegas Castañeda
c/ Almireceros
Tlf: 958 22 63 62
Go here for: If you're hungry, Bodegas Castañeda boasts cheap but substantial offerings of tapas. Go for the "tortilla española" (Spanish potato omelette) or a "tabla" of meats and cheeses.
Antigua Castañeda
c/ Elvira
Tlf: 958 22 63 62
Go here for: Cheap but filling, Antigua Castañeda's montaditos (open sandwiches) are its specialties.
Poe
c/ Jardines
Go here for: A trendy, British-owned bar, dig into the free and hearty tapas served in small earthenware dishes. One of the locale's specialties is chicken stew with polenta.