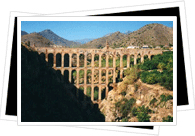 Introduction
It is the village that retains a influencial level of its traditional charm whilst being a particular hot spot for british tourists. It caters brilliantly to families and has endless activities ready for you get involved. A trip from Granada to Nerja is a great way to spend the valuable leisure time!
The sights
One of the best starting points will be the Balcon De Europa which tranlates to the balcony of europe, it was once a moorish castle which now serves a more relaxed purpose. it displays the captivating view of the mediterranean ocean. With that as your starting point, you shall wonder if the rest of the day will be able to match up. You wont be disappointed as the next stop is the unique collections of caves named Cueva de Neria, considering the floods of tourists that visit each year they are still in great condition. They are now home to a host of ancient pieces of art some ranging up to twenty thousand years old! It also hosts the cave festival (you can appreciate the creative name) which hosts the talents of many international stars and creates a tailored experience.
If you fancy something a little bit carefree and will top your adrenalin rush, then head down to the ocean for some aquatics including the legendary banana boat, scuba diving and a selection of nearby swimming pools. there is also a skating park for the teenagers, if that isnt enough then you'll also have the decision of getting involved in pot holing, rock climbing and hiking.
There will be no doubt whatever direction you take for your time in Nejar you will eventually work up a well deserved appetite. Only one way to solve that is to try one of the delicious local treats, one example of that is the Pescaito Frito (fried fish) alongside a side dish of your decision it will be the hearty meal to set you up for an evening of fun.