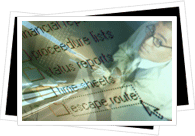 When it comes to safety in Granada, the rule of thumb is to simply use your common sense and you'll be fine. Major crimes in Granada are practically unheard of. However, as a popular tourist destination, incidents of pick-pocketing and bag-snatching in Granada are more frequent- especially in popular tourist areas like the Albaicín and Sacromonte. Chances are that nothing will happen to you, but to be sure just take a few simple precautions... trust us, having your wallet taken from your pocket can put quite a damper on your trip!
Some Safety Tips
-Keep a watchful eye on your belongings.
-Women: use purses with zippers and sling them across your chest instead of over one shoulder.
-Be particularly aware in crowded, touristy areas- unsuspecting tourists are the easiest targets.
-Don't carry all of your valuable items- passport, money, credit cards- in one pocket.
-Carry around a copy of your passport and leave the original in a safe in your hotel.
-Be sensible- for example, don't count your life's savings sitting on a city bench.
Despite the warnings, don't panic! Granada is an extremely relaxed city in which people generally feel very safe. In the highly unlikely event that something does happen and you want to report a crime, get in touch with the national police (policía nacional).
EMERGENCY NUMBERS FOR GRANADA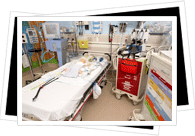 Emergency: 112
Ambulance: 958 28 20 00
National Police: 091
City Police: 092
Civil Guard: 062
Police Station: 965 14 88 88
Fire: 080
OTHER USEFUL NUMBERS FOR GRANADA
R.E.N.F.E. (National Train Service) Information: 902 24 34 02
R.E.N.F.E Tickets: 902 24 02 02
R.E.N.F.E. Station in Granada: 958 27 12 72
Bus Station: 958 18 50 10
Post office: 958 22 48 35
Airport: 958 24 52 37
Customs: 958 80 82 40
Visas, Embassies, & Consulates
CREDIT CARD NUMBERS IN SPAIN
If you have a credit card mishap and need to make a cancellation, you can call these toll free numbers:
American Express: 915 72 03 03
MasterCard: 900 97 12 31
Visa: 900 97 44 45
PHARMACIES
Like all Spanish cities, Granada has tons of pharmacies- one on practically every corner. Not all of them are open 24 hours, so here's the addresses of a few that are:
c/ Recogidas, 48
Tlf: 958 25 12 90
Puerta Real, 2
Tlf: 958 26 31 13
c/ Periodista José Mª Carulla, 8
Tlf: 958 15 49 49
Avda. Dílar, 16
Tlf: 958 81 18 06
c/ Reyes Católicos, 5
Tlf: 958 26 26 64
Pharmacy Information: 900 17 17 27 (toll-free number)
HOSPITALS
In the unlikely event that you need medical attention, you'll have no trouble finding one of Granada's many hospitals. While there are certainly more, here is an abbreviated list of hospitals located right in the city:
Hospital Universitario "Vírgen de las Nieves"
Avda. Fuerza de las Armadas, 2
Tlf: 958 02 00 02

Hospital San Juan de Dios
c/ San Juan de Dios
Tlf: 958 02 29 04
Hospital Clínico Universitario San Cecilio
Avda. Doctor Oloriz, 16
Tlf: 958 02 32 59
Clínica Nuestra Señora de la Salud
Avda. Nuestra Señora de la Salud
Tlf: 958 80 88 80