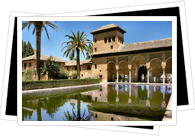 1. Alhambra & Generalife
Harmoniously integrating nature and architecture, the utter beauty of the lavishly exotic Islamic complex's palaces, patios, and gardens will leave you wide-eyed in awe. Very fittingly declared a World Heritage Site, the Alhambra reflects the unrivalled brilliance and extravagance of Granada's affluent Islamic history. Learn more about La Alhambra...
2. Location
Juxtaposing Spain's highest mountain peaks and the tranquil Mediterranean shore, you can imagine why a common joke around Granada is that it's the one place where you can spend the morning skiing and the afternoon soaking up sun on the beach. Between the soaring Sierra Nevada, whose snowcapped peaks provide a stunning backdrop to the Alhambra, the Mediterranean's Costa Tropical (Tropical Coast) winding along the province's southern border, and everything in between, the architectural beauty of Granada is tucked right into a region of vast natural wonder.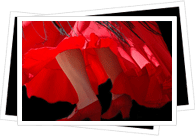 3. Flamenco
Emerging from the passionate hearts and souls of Andalucía's gypsy population, Andalucía is still the place to see flamenco in its most genuine form. Many of Spain's most famous flamenco performers have hailed straight from Granada's traditional gypsy quarter, Sacromonte, where you can still visit the caves for impromptu performances! Learn more about flamenco in Granada...
4. Albaicín
The winding alleys and white-washed buildings of Granada's historic Islamic quarter is not only the oldest neighborhood but is also the most characteristic, complete, and genuine Islamic district in all of Spain. Learn more about the Albaicín...
5. People
Sunny Andalucía has garnered quite a reputation for its equally sunny people. The remarkably friendly disposition of Granada's own 240,000 citizens will have you hanging around bars, snacking on tapas, and simply enjoying the infectuous Andalucían attitude. Plus, Granada's prestigious university attracts 60,000 national and international students each year, a population that sgives the city streets a vibrant, diverse air.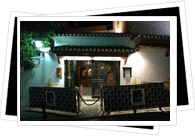 6. Nightlife
As experts at enjoying life, lively "granadinos" inevitably yield a lively Granada nightlife. Spend an evening sipping sangría in a terrace café, soaking up the festive atmosphere of Granada's bar scene, or even check out the caves-turned-nightclubs in the Sacromonte district!
7. Sacromonte
Not to be missed is Granada's genuinely one-of-a-kind Sacromonte district. Comprised entirely of elaborate and still inhabited cave dwellings- yes, cave dwellings- dug right into the mountain, Granada's traditional gypsy "barrio" certainly has an atmosphere and a style all of its own. Learn more about Sacromonte...
8. History
From Iberian settlements to Roman Empires, Islamic Emirates, and Catholic Monarchies, all it takes is a look at Granada's incredible architecture to realize that the city's history is quite a tale to be told. Learn more about Granada's history...
9. Capilla Real
Constructed as a fitting mausoleum for Spain's most famous monarchs- who rather symbolically chose the final city of their Christianizing "reconquista" as their resting place- the Capilla Real (Royal Chapel) is even more impressive than Granada's much larger adjoining Cathedral. Step through the doors of this marvelous Isabelline Gothic structure, take in the beauty of the chapel, and seek out the elaborate marble tombs of Fernando and Isabel along with their daughter and son-in-law.
10. Tapas
A Spanish-turned-international phenomenon, the practice of the "tapeo"- which essentially boils down to glorified snacking- got its start right here in Andalucía. Today, as one of the few cities in which you can still get free tapas when you order a drink, Granada also has a reputation for adding a slightly more elaborate touch to its savory Andalucían tapas.