If there's one thing that Spaniards know how to do it's throwing a great party. Like in all Spanish cities, Granada's calendar is chock-full with a wide range of celebrations and arts festivals. In fact, no matter when you're in Granada, you're sure to run into a film series, a religious procession, a flamenco festival... and that's just the beginning of it!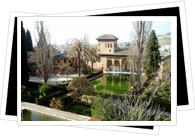 Here's a quick run down on the main festivals packed into Granada's agenda- don't forget to click on the links for more Granada festival information!
Fiesta de la Toma
(Festival of the Capture)
When: January 2
Festival Description: To celebrate the day that the Catholic Monarchs "liberated" Granada back in 1492, festivities include a colorful procession featuring 15th century period costumes, the raising of the monarchs' banner at the Ayuntamiento (City Hall), and hoards of young people scrambling up the Alhambra's Torre de la Vela to ring its bell.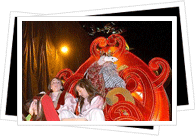 Reyes Magos
(Three Kings)
When: January 5-6
Festival Description: On January 5, Granada- particularly the children- welcomes the arrival of the Three Kings with a big parade called the Cabalgata de los Reyes Magos, where the three Biblical monarchs process through the city accompanied by a whole entourage of colorful characters. The next morning, January 6, is like the Spanish equivalent of Christmas day in the United States- full of presents begging to be opened!
Festival de San Cecilio
(Festival of San Cecilio)
When: February 2
Festival Description: To celebrate the feast day of San Cecilio, Granada's patron saint, a mass is held in the Abadía del Sacromonte (Sacromonte Abbey), where he is interred. Another big highlight of the festival is the gastronomic competitions- a great way to try the best of Granada's mouth-watering food!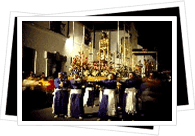 Semana Santa
(Holy Week)
When: March / April
Festival Description: Learn more about Semana Santa...
Cruces de Mayo
(Crosses of May)
When: May 3
Festival Description: Learn more about Cruces de Mayo...
Aniversario de Mariana Pineda
(Mariana Pineda Anniversary)
When: May 25
Festival Description: Outdoor dancing and a variety of cultural events mark the anniversary of the death of Granada's young political heroine Mariana Pineda. She was imprisoned and killed for her liberal beliefs, for conspiracy against the ultra-conservative government, and for her refusal to name her fellow liberal "conspirators."
Corpus Christi
(Celebration of the Corpus Christi)
When: June - Thursday following Trinity Sunday
Festival Description: Learn more about Corpus Christi...
Festival del Albaicín
(Albaicín Festival)
When: June 29
Festival Description: Like a scene straight out of the past, pilgrims in traditional garb arrive on horses and in horse-carriages to the Albaicín's Ermita de San Miguel (San Miguel Hermitage).
Festival de Nuestra Señora de las Angustias
(Festival of Our Lady)
When: September (last Sunday of the month)
Festival Description: This festival, like many of Andalucía's festivals, is religious-themed. To celebrate the Virgin Mary, a beautiful procession much like those of Semana Santa passes through the city.
Conmemoración del Descubrimiento de América
(Commemoration of the Discovery of America)
When: October 12
Festival Description: The discovery of America drastically changed Spain's economic and political power- at least for a couple of centuries! To celebrate this important moment of Spanish history, Granada holds a festival featuring a flower offering at the Monumento de las Capitulaciones.
Nochebuena / Navidad
(Christmas Eve / Christmas)
When: December 24-25
Festival Description: Nochebuena (December 24) is celebrated amongst family and usually involves copious amounts fo eating and drinking in what is usually the biggest meal of the year. While a present or two from Santa Claus might make their way into your hands on Navidad (December 25), the day is basically spent relaxing and recovering from the previous night's activities.
Nochevieja
(New Years Eve)
When: December 31-January 1
Festival Description: After a big family meal, young people take to the streets and head to Granada's main public squares- particularly the one in front of the Ayuntamiento (City Hall). Keep an eye on the clock and listen for the midnight chimes. The challenging and wholly entertaining Spanish tradition is to eat twelve grapes- one with each chime of the clock- before uncorking the champagne and toasting everyone around you!