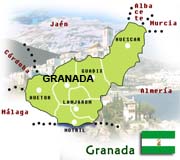 Learn here Reaching back as far as early Iberian settlers, Granada's history doesn't span mere centuries- it spans entire milleniums!
Culture & the Arts
Granada has been a cultural melting pot since its very foundation, a city of an extraordinary intellectual and artistic activity, and the headquarters of many different cultures. Read more
Trips from Granada
Located in the heart of Andalucía, and trapped between the mountains and the sea, Granada is an ideal starting point for all sorts of excursions... Read more
Welcome to What Granada, your comprehensive guide about Spain's "Moorish Jewel" with exclusive information that you won't find anywhere else. Dive right into the discovery of the many faces of Granada! Just check the following sections!
How to Use this Guide
Our aim is to give you all the information for you to decide. Check our sections for more specific details: About Granada explains all you need to know before you leave for the city, and the Transportation section contains detailed information to get around in Granada.