Granada and Andalucía Food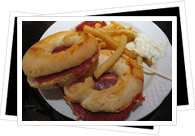 Fitting into the delectable scope of Andalucían cuisine, you can attribute Granada's gastronomy to both its fortunate geography and its rich cultural history. A variety of fresh products hailing from Granada's surroundings yield an extensive spread of hearty, homemade dishes whose recipes households and restaurants have down pat. However, to really grasp the range of Granada food dishes, bar-hop your way around the Granada tapas scene!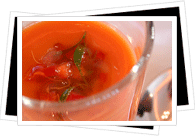 Food of Andalucía, and naturally of Granada, boasts a heavy reliance on fresh vegetables, olive oil, vinegar, and salt. In fact, you can almost always find at least one, if not all, of these ingredients in whatever is on the other end of your fork! Actually, a gastronomical tour of Granada will more than likely find you wielding a spoon, as Granada's food creations often come in the form of soups, stews, and pottages. These savory dishes range from light, cold, summer soups like "gazpacho" and "ajo blanco" to thick, hot stews like "olla de San Antón," perfect for a cold winter evening.
Add in fresh seafood from the lucrative waters of the nearby Mediterranean Sea, excellent sausages and hams cured high in Granada's soaring Sierra Nevada mountain range, and the flavorful spices- cumin, coriander, saffron- of Granada's rich Islamic past, and you have the base of the mouthwatering Granada diet.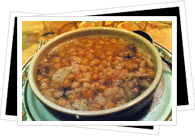 Classic Granada Food Dishes
Olla de San Antón
Hearty dish combining broad beans, pig's ear or head, bacon, and blood sausage.
Tortilla de Sacromonte
A Spanish omelette featuring a few certain parts of a bull- we'll leave it at that.
Habas con jamón
Broad beans with ham.
Gazpacho
Cold, tomato-based vegetable soup.
Salaíllas
Salted bread.
Migas alpujarreñas
Fried bread crumbs seasoned with garlic and paprika.
Ajo blanco
A cold, almond-based soup.
Plato alpujarreño
Fried potatoes, fried egg, cured ham, and spicy sausage.
Espetones
Barbequed sardines.
Pescaíto frito
Fried fish.
Papas a lo pobre
A simple, tasty dish with fried potatoes, peppers, tomatoes, garlic, olive oil, and various seasonings.
Cazuela de pescado frito
Fried fish casserole.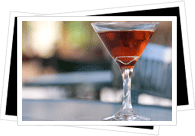 Granada Drinks
Whether you need a caffeinated boost to get your day going, a tasty drink to get you ready for Granada's nightlife, or simply something to accompany the delicious Granada food you just ordered, Spain boasts a wide range of tasty beverages. To begin, coffee isn't just a drink in Spain- it's a way of life! Combining social breaks during the work day and leisurely cups during their free time, Spaniards certainly embrace Spain's coffee culture and are known to drink several of these strong, piping hot beverages each day.
As for wine, Spain produces a wide range of top-notch wines- the classic vino tinto (red wine) and vino blanco (white wine) are naturally year round favorites. Honing in on Andalucía, you can find the small city of Jerez, whose name actually translates to sherry- in fact, the production of the world's supply of genuine sherry hails from Jerez and its surroundings! The various forms of sherry, although "fino" is easily the most popular pick, are the source of intense Andalucían pride, so be sure to order "fino" to wash down scrumptious tapas! In Granada itself you'll find a local wine called "vino de la costa" meaning "coast wine"- rather ironic, as it's actually made in the mountains of Las Alpujarras.
A favorite amongst locals and tourists alike is sangría- a refreshing relief especially during the toasty summer months. Be sure to order a glass or share a pitcher of this fruity, refreshing, red wine-based drink with friends. A sangría spin-off particularly popular in Andalucía is "tinto de verano". Combining red wine and lemonade, it's equally delightful and in Granada bars often keep it on tap!
Granada Desserts
Chock-full of pastry shops with enticing window displays, Andalucía is well-known throughout Spain for its affinity of sweets, another ode to its Islamic ties. Naturally Granada, as the longest lasting Islamic stronghold of Spain's history, boasts quite the array of such tasty treats for anyone with a sweet tooth. Cakes and pastries such as the "torta de la Virgen" and "roscos" are just a couple of typical local favorites that make the most of favorite Islamic ingredients such as almonds and honey.
Andalucía is also laden with convents that maintain centuries-old traditions and recipes. The result? Delicious hand-made treats- try the "huevos moles" from the Convent of San Antón, the "bizcochada" hailing from the Convent of Zafra, or the Motril's "tarta real."