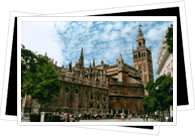 Introduction
When travelling from Granada to Seville you will moving in the direction of the financial center of southern Spain. A beautiful town with a rich history that is delicately integrated into their traditions and everyday culture, Seville was originally known as Hispalis and inhabited over two thousand years ago! Today it is one of the most recognized cities in Spain.
Now on to the good stuff!
Once you arrive you will be thinking 'ok it's a beautiful place but its a maze where do i start?' No problem at all, as here we'll provide you with the run down of all the great places to take a gander at whilst getting your money's worth out of the map. The main stop, located at Plaza del Triunfo, is the Cathedral of Seville. It has quite the reputation behind it, as it's one of the largest cathedrals in the world and oozes with architectural genius. The massive Gothic Cathedral we see today was built upon what was the city's Great Mosque - in fact, its characteristic belltower, La Giralda, was the mosque's minaret - and it's a great start to your day.
Another impressive sight is the Alcazar of Seville, a royal palace that is one of the remaining examples of Mudejar architecture. One of the challenges you can set yourself is to find the faces that are carved into the Patio de las Muñecas (Courtyard of the Dolls)!
There is also an interesting story behind the baths in the Alcazar, named the Baths of Lady Maria de Padilla. Lady Maria is regarded as a sign of purity for her resistence and the extreme lengths she went to stopping Pedro the Cruel's advances on her. Speaking of baths, if you would rather be in one than just admiring them then you're in luck, as on Calle Aire there is an appropriately named Aire de Sevilla with the highest quality Arab Baths (Baños Arabes), so spoil yourself and indulge in a bit of rest and relaxation.
If you are looking for a piece of the artistic aspect of Seville then you will do well to visit the Galeria Rafael Ortiz Exhibit. It is one of the private galleries in town and is located in Santa Cruz on Calle Maroles. If that's not your style, then you can always guarantee a winner with the Fine art Museum; founded in 1835 it has an array of pieces available for your aesthetic viewing.