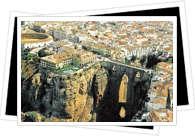 Introduction
Ronda is an old Islamic town that still manages to retain its traditional culture. The town has a quaint vibe and picturesque beauty about it that will put you at ease and guarantee an enjoyable time there. Ronda has several sights that are prime examples of picture-perfect scenery and creative architectural designs.
Things to do
One of the first places that you should head down to see is the El Tajo Gorge; it is ridiculously deep with a intense drop of cascading water surrounded by a jagged yet beautiful array of land sprinkled with green pastures. It has the Puente Nuevo, the bridge spanning the gorge that connects the two parts of Ronda. This huge bridge demonstrates the sheer imagination of its designer, Martin de Aldehuela, who sadly passed away trying to engrave the date of its completion on it.
If you are interested in a busy atmosphere then you can be guaranteed that the Plaza de Espana will provide you with more than enough hustle and bustle, with shops and restaurants ready for your needs.
In regards to museums, you have a great choice depending on what you fancy. For example, the City Museum contains exhibits split into three main sections: History, Ethnography and Environment. For those with a different taste there is still the Museum of Hunting, which displays the animals of several species from in and around Spain. It was constructed in the 18th century and contains a hunting shop for those enthusiasts.
Lara's Museum is also worth a gander if you find yourself with enough time. It has the collection of pieces from the 17th century, including weaponery, clocks and torture-related devices. For a religious twist to your visit, a venue to note is the Iglesia de Nuestra Señora de la Merced; dating back to 1577, it was where one of its nuns became a saint.