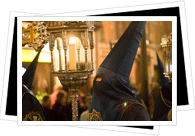 When? Holy Week (March - April)
Where? The processions go through various parts of the city, but all processions must pass through the Carrera Oficial (Official Route) which runs through the center.
Semana Santa Traditions:
Along with music and tapas, religion plays a monumental role in Andalucía's culture- even more so than throughout the rest of Spain- so you can imagine the kind of show they put on to commemorate major religious holidays. Let's take Easter, for example.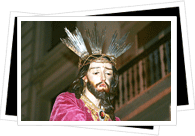 Throughout Semana Santa (Holy Week), 32 processions spend hours making their way through the Granada streets. Each procession is the pride and joy of a cofradía (brotherhood), which spends hoards of time, effort, and money perfecting their procession. Each procession typically has two elaborate sculptures: one depicting a scene from Christ's Passion and another depicting a young, mourning Virgin Mary. Now these aren't just simple sculptures- they're impeccable works of art by famous sculptors who are then set in lavish floats to be lugged through the city upon the shoulders of up to 40 men, called "costaleros."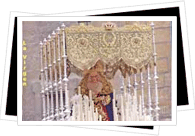 Along with these floats marches a huge entourage. Robed penitents- often barefood- carry crosses or candles, brass bands set the atmosphere and the beat for the "costaleros" with their soulful music, and finally women donning traditional black garb are just a few of the essential parts that comprise the procession. One of Granada's most famous processions is that of the Gitanos (Gypsies), who make their way down from the hill-top Sacromonte Abbey, through the winding streets and steep hills of Sacromonte and the Albaicín, down the center's Carrera Oficial (Official Route) and finally to the Cathedral- where they turn around and do it all again in the opposite direction. Not an easy feat when it involves a huge float that requires the strength of so many men to get it around!
Semana Santa History:
The evolution of the dazzling festival of Semana Santa in Spain was a work-in-progress which began- quite obviously- with the death of Jesus Christ. Granada got a bit of a late start as it lasted as an Islamic emirate until 1492- nearly two centuries after the reconquista took over all of Granada's neighboring cities. It's probable that some sort of celebration was held since that year, however the first major date to appear was in 1521 when the Marqués de Tarifa returned from the Holy Land. Feeling inspired and religious after his journey, he institutionalized the Vía Crucis (Stations of the Cross) and mandated that it be conmemorated with a procession.
Over time, the singular Vía Crucis procession eventually broke up into the various processions, each depicting a scene of the passion through portable crosses and altars. From then on, the processions grew exponentially elaborate and soon the cofradías (brotherhoods) began to form, one for each procession. Nowadays, Granada has 32 cofradías and, therefore, 32 breathtaking processions.