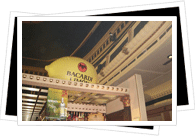 The bar in which you've been drinking and socializing is closing. It's three o'clock in the morning. It's time to call it a night and head to bed, right? Wrong! If you still have energy and think you can keep up with the nocturnal "granadinos," head to one of Granada's frenzied night clubs and get ready to dance until the sun comes up!
Granada 10
c/ Cárcel Baja, 3
Tlf: 958 22 40 01
Go here for: Head to Granada 10, often considered to be the place to go, for a frenetic night in a former 1930's theater.
El Camborio
Camino de Sacromonte, s/n
Tlf: 958 22 12 15
Go here for: Set in one of the caves on Sacromonte, El Camborio can certainly be called one of Granada's most traditional night clubs.
Distrito 10
c/ Gran Capitán, 10
Tlf; 958 28 02 90
Go here for: A two-floor "discoteca" with great music on both!
Sala Cha
c/ Ancha de Gracia, 4
Go here for: Go here if you're ready to dance until dawn.
Sala Príncipe
c/ Campo del Príncipe, 7
Tlf: 958 22 80 88
Go here for: One of Granada's most popular night clubs- come see why!
Entresuelo
c/ Azacayas, 16
Go here for: Fun club with crazy decoration.
Lla
c/ Santa Bárbara, 9
Tlf: 958 29 57 63
Go here for: Fun atmosphere featuring current commerical hits to dance to.