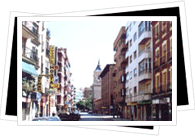 Granada boasts a few different areas to hit up on its bar scene. The streets surrounding Plaza Nueva brims with a young, university-age crowd as does the area around the university (San Juan de Dios, Carril del Picón, and Pedro Antonio de Alarcón are a few streets to take a look at). A slightly older crowd of twenty-somethings hang around the bars lining Calle Elvira, where bands often play during the winter months.
Spaniards love to be out and about when the weather permits, so during the mild months follow suit and head to the Paseo de los Tristes to grab a drink at one of the many terrace bars.
Here are a few popular Granada bars: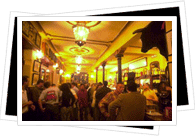 Bodegas Castañeda
c/ Almireceros
Go here for: Famous for its tapas, this bar is equally famous for its inviting night-time atmosphere and fun crowd.
Antigua Castañeda
c/ Elvira
Go here for: Much of the same type of bar crowd and entertaining atmosphere as Bodegas Castañeda (above).
La Fontana
Carrera del Darro, 19
Go here for: Pool tables and rock jams are two of the highlights of this popular bar.

Tantra
c/ Álvaro de Bazán, 9
Go here for: As a fun and trendy bar with a great dance floor, any crowd is sure to have a blast at Tantra.
Peatón Pub
c/ Socrates, 25
Go here for: Popular with Granada's rock-'n'-roll-loving university crowd, you can find a bunch of similar locales in the immediate area- nearby bars Babel, Van Gogh, and Genesis are just a few popular haunts.
Morgan
c/ Obispio Hurtado, 15
Go here for: Up-tempo music, great DJ's, and a lively crowd from Thursday through Saturday.
Patapalo
c/ Naranjos, 3
Go here for: A stylish place to drink, socialize, and dance.