As a city in which people love to be out and about and whose friendly people simply revel in a good chat, there are tons of places throughout Granada to sip on a steaming "café con leche" or treat your sweet tooth to a tasty confection. Plus, throughout the traditionally Islamic Albaicín neighborhood- especially the streets Caldería Nueva and Caldería Vieja- there are tons of atmospheric "teterías" (tea rooms) where you can try out a wide range of typical Arabic infusions, compliments of Granada's famed traditional Islamic culture.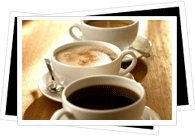 Cafés
Cafetería Lisboa
corner of c/ Elvira and c/ Reyes Católicos
Go here for: Mouth-watering pastries.
Portolano
c/ Ahamar, 26
Go here for: Tranquil café, perfect for a coffee with friends.
Casa de los Pasteles
Plaza Larga
Go here for: Sit-down café with hoards of cakes and pastries.
Harén de Arquímedes
c/ Sol, 13
Go here for: Chill atmosphere, jazz music, great for chatting over coffee.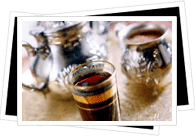 Teterías

Kasbah
Caldería Nueva, 4
Go here for: Enjoy herbal infusions in an atmosphere set by candle-lighting and incense.
As-Sirat
Caldería Nueva, 5
Go here for: More than 80 varieties of teas, Arabic-inspired decoration.
Dar Ziryab
Caldería Nueva, 11
Go here for: Live Middle Eastern music sets the atmosphere.
Al-Faguara
Caldería Nueva, 7
Go here for: International teas and fruit juices, cakes, Middle Eastern rugs, wall-hangings, and music.
Ice Cream
Los Italianos
Gran Vía, 4
Go here for: Best homemade ice cream in Granada.
Café Fútbol
Plaza de Mariana Pineda, 6
Go here for: Homemade ice cream, churros, shady terrace under huge chestnut trees.