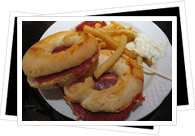 While dining out in another country is essential to really get a taste of its typical cuisine, it can put quite a hefty dent in your wallet. Luckily, Granada is the diner-on-a-budget's dream. As the home of the free tapas, Granada has hoards of tapas bars which- as its nickname suggests- still serves up free and surprisingly substantial tapas with each drink.
For the more traditional sit-down experience, look for restaurants offering a "menú del día." Essentially a value meal, for the price advertised you'll be able to choose from a fixed list of first and second courses along with bread, dessert, and a drink. Normally ranging between € 5.00 and € 12.00, it's not a bad way to stock up! Check out the following restaurants, just a sprinkling of Granada's myriad of budget dining options:
La Nueva Bodega
c/ Cetti Meriém, 9
Tlf: 958 22 59 34
Go here for: Authentic and affordable restaurant that offers great great menús del día for between € 5.00-€ 10.00.
Al Andalus
c/ Elvira
Tlf: 958 22 67 30
Go here for: Arabic eatery where you can grab a falafel in a pita to go for just € 3.00.
Jardín Imperial
c/ Gonzalo Gallas, 3
Tlf: 958 27 72 80
Go here for: You can feast on a menú del día for € 6.00.
Prosperidad
c/ Martínez Campos, 21
Tlf: 958 26 68 14
Go here for: For quality Chinese cuisine on a budget, Prosperidad has a menú del día for € 4.95.
Raices
Avda. Pablo Picasso, 30
Tlf: 958 12 01 03
Go here for: Principally a vegetarian restaurant, try the menú del día for € 7.80.