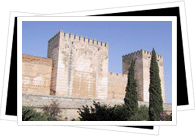 La Alhambra, the ultimate testament to Islamic splendor, essentially defines Granada's rich culture. As Islamic cities thoughout Spain began to one-by-one fall to the aggressive Spanish reconquista, the first Nasrid King- Mohammed ibn Yusuf ben Nasr, or simply "Alhamar"- felt that he had to beef up his strategical and defensive capabilities. The first rust-colored bricks of the new, more strategically situated palace-fortress were laid, and soon Alhamar abandoned his former Alcazaba (fortress) in the Albaicín and moved into the new Alcazaba, the oldest section of La Alhambra.
While originally constructed for military purposes, every ruler wants to live in an abode befitting his lofty status- hence the construction of the sumptuous Nasrid palaces during the 13th and 14th centuries. With graceful horseshoe arches, ornately carved walls and ceilings, and the elegant use of light and water, the Alhambra is the ultimate example of the artistic skill, the precision, and the impeccably good taste of Moorish architecture.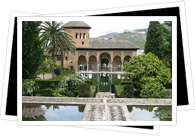 The Alhambra's Generalife, constructed around the same time as the Nasrid palaces, is a combination of lush gardens and airy, ornate architecture. Serving as a kind of summer palace, the surrounding gardens are a recreation of paradise which, to typically desert-bound Muslims, is full of lush vegetation and abundant water. Needless to say, the Generalife's pristine gardens boast a beautiful array of trees, plants, and flowers... with water everywhere- even the stairways' hand rails have water running down their centers!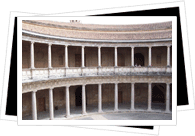 The last major addition to the Alhambra was the Palacio de Carlos V (Palace of Carlos V), constructed after the "reconquista." While it's an exemplary archetype of Renaissance architecture at its very finest, it doesn't quite manage to blend in amongst the delicate Moorish architecture throughout the rest of the Alhambra. However, within its walls you can find two of Granada's excellent museums: the Museo de Bellas Artes (Museum of Fine Arts, on the second floor) and the Museo de la Alhambra (Alhambra Museum, on the first floor), where you can see the palace's original furnishings and other remnants of its days of splendor.
Another museum on the Alhambra hill is the Casa Museo Manuel de Falla, where you can get a glimpse inside the home and life of Granada's most famous 20th century composer.
Where to experience culture in Granada's La Alhambra:
Museums
-Museo de la Alhambra
-Museo de Bellas Artes
-Casa Museo Manuel de Falla

Concert Venues
-Auditorio Manuel de Falla