Highlights:
ALCAZABA (Fortress)
NASRID PALACES
GENERALIFE (Generalife Palace and Gardens)
PATIO DEL CUARTO DORADO (Courtyard of the Gilded Room)
SALA DE EMBAJADORES (Embassadors' Hall)
PATIO DE LOS LEONES (Lion Courtyard)
PATIO DE LOS ARRAYANES (Arrayán Tree Courtyard)
PALACIO DE CARLOS V (Palace of Carlos V)
PATIO DE LA ACEQUIA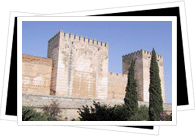 Situated in the most western part of La Alhambra is the Alcazaba- the oldest part of the complex and the perfect place to start an amazing touristic and cultural Islamic adventure. With sections dating back as far as the 9th century, this strategic citadel was built up by the first Nasrid king, Alhamar, in anticipation of the Spanish reconquista. The king then converted it into his royal residence, as did his son- at least until the lavish Nasrid palaces were finished.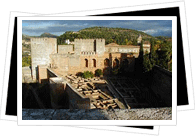 While parts of the Alcazaba were demolished to make way for the Palacio de Carlos V, the original Alcazaba towers- Torre Quebrada (Broken Tower), the Torre del Homenaje (the Keep), and the Torre de la Vela (Watch Tower)- continue to remind us of the Alhambra's original military purposes.
Ironically, neighboring the oldest section of La Alhambra is the newest section. The Palacio de Carlos V is the one building of the Alhambra complex that was built after the Spanish "reconquista." King Carlos V ordered an Italian-style Renaissance "palazzo" to be built, featuring an enormous, two-story square building with a stunning circular, column-arcaded patio. While it doesn't exactly mesh with the surrounding Islamic marvels, architecture buffs consider it to be one of Spain's best Renaissance specimens, so it's definitely worth a visit.
Moving eastward from the Alcazaba and the Palacio de Carlos V you'll enter the exotic realm of the Nasrid palaces. Each corner you turn will surprise you with a new treasure, whether it be a lush garden, an intimate courtyard, or an impossibly beautiful room- be sure to take your time and absorb the incredible Islamic attention to detail.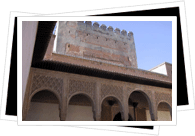 La Alhambra's most famous and characteristically Islamic courtyard, featuring arcades of marble columns, water streaming through tiny canals, and an elaborate fountain supported by 12 lions, is the Patio de los Leones (Lion Courtyard). Nearby you'll come across the Patio del Cuarto Dorado (Courtyard of the Gilded Room), where you'll notice shielded windows running along the upper part of it. These windows lead to the harem, the royal living area, and allowed those within the harem to see out without letting the people in the courtyard see in. One more especially historical stop is the Sala de Embajadores (Ambassadors' Hall), where the final Islamic king Boabdil officially surrendered to the Catholic Monarchs and later where the same monarchs discussed upcoming journeys with a rather famous young man named Christopher Columbus.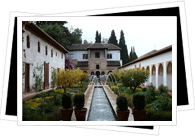 After revelling in the Nasrid palaces, head further east to the Generalife- the summer palace. Filled with flowers, cypress teres, honeysuckle vines and shady benches, this recreation of Islamic paradise has another star: water. Back in 1313, Arab engineers managed, through a series of dams and channels, to change the Darro River's flow to bring water to the Generalife- by 18 kilometers! The most important courtyard of the Generalife is the Patio de la Acequia. Filled with lush green vegetation, a long canal of water that divides the patio in half length-wise, and even an aquatic archway, it connects the Palacio (Palace) with the Sala Regia (Regal Hall)