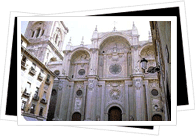 When the monarchs Fernando and Isabel finally took Granada, the last city of their Christianizing "reconquista" campaign, from the Muslims, they created a new city center and corralled the entire Muslim population into the Albaicín.
In Granada's center, sometimes also called the Cathedral Quarter, you can compare the vast differences between the pre- and post-reconquista architecture. Massive Christian structures such as the Cathedral and the Capilla Mayor easily- and rather symbollically- dominate the few exotic-looking Islamic buildings that weren't demolished, serving as a reminder of the Christianity that has dominated the city since the late 15th century.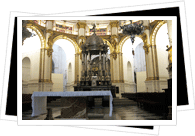 While visiting the Capilla Real (Royal Chapel), be sure to check out the small art museum in the Sacristy, full of Queen Isabel's personal collection of stunning Flemish paintings, her exquisite royal jewels, King Fernando's sword, and even the original banner they triumphantly waved as they ceremoniously entered the city back in 1492.
Where to experience culture in Granada's center:
Museums:
-Museo de la Catedral (Cathedral Museum)
Markets:
-El Mercado San Agustín (San Agustín Market)
-Herb & Spice Market
Flamenco Shows
-Corral del Carbón
-Los Jardines Neptuno