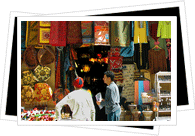 For the freshest fruit, vegetables, meat, and fish, the totally revamped and ultra-modern Mercado San Agustín (San Agustín Market) is a huge covered market- so big, in fact, that it covers three entire city blocks! So whether you're considering a relaxed picnic in one of Granada's parks or if you simply need a quick piece of fruit to hold you over until dinner, head here for all sorts of goods. Plus, the streets surrounding the market act like an extension, full of everything from fresh snails to hand-embroidered lace and fabric. Finally, a small but busy market is held in Plaza Larga on Saturday mornings, where you can find your typical spread of fruits and veggies as well as potted plants and bootleg CD's and DVD's.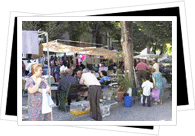 Since the days of Islamic rule when the great mosque stood where you now see the cathedral, the center of town as long been a market-laden area. Check out La Alcaicería- while the one you see now is a replica after the original Islamic one was demolished in a fire, you can still get an idea of its lively past and shop for local goods. Also nearby the cathedral you will find an interesting little Herb and Spice Market, which offers everything from paella seasonings to cures for arthritis.
If you're up for funky, hippy-style morning markets, head to the Lachana neighborhood on Wednesdays, El Zaidín neighborhood on Saturdays, and to the Polígano de Cartuja on Sundays. With everything from clothing to furnishings, you never know what little treasures you can find!