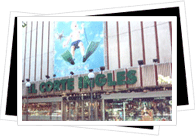 With the sheer quantity of shops, markets, and department stores packed into each Spanish city, you could viably spend years shopping! From regional goods hailing from Granada's peripheral villages right up through designer clothing created by Europe's veritable herd of fashion moguls, your shopping possibilities are endless!
Where to Shop in Granada: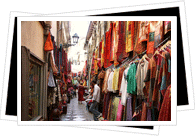 Whether you want to leisurely poke about in tiny boutiques or max out your credit card in El Corte Inglés, Spain's giant department store chain, great shopping is everywhere! Of course, there are naturally a few areas of Granada that boast the best shopping. Head to Plaza Nueva for jewelry and ethnic clothing shops or to Calle de los Mesones for trendy clothes and shoe boutiques (Spain is famous for them!). Around the Cathedral and throughout the Granada center (especially the streets Puerta Real, Carrera de la Virgen, Recogidas, Acera del Darro, and Pedro Antonio de Alarcón) you'll come across Granada's most fashionable shopping
Specialty and artisan shops are spread throughout the center and the Albaicín, although another place to check out is the Cuesta de Gomérez- the road that leads up from Plaza Nueva to the Alhambra.
Local Handicrafts to Shop for in Granada:
-Ceramics
-Guitars
-Embossed leather
-Woven baskets
-Taracea (Marquetry inspired by Islamic art and applied to boxes, tables, chess sets, etc.- often with shell, silver, or mother-of-pearl inlays)
Granada Shops:
El Corte Inglés
Carrera del Genil, 20-22
Tlf: 958 22 32 40
Go here for: Everything from ketchup to designer footwear.
Centro Comercial Neptuno (Shopping Center)
c/ Arabial
Tlf: 958 52 08 20
Go here for: A typical mall experience- tons of stores in one place.
Laguna Taller de Taracea
c/ Real de la Alhambra, 30
Tlf: 958 22 90 19
Go here for: Not only can you buy taracea products but you can see artisans in action.
Casa Ferrer
Cuesta de Gomérez, 26
Tlf. 958 22 18 32
Go here for: Watch artisans and buy Spanish guitars.
Artesanía El Suspiro
Plaza Santa Ana, 1
Go here for: Granada ceramics, Moroccan pottery and jewelry.
Ocho y Media
c/ San Matías, 15
Go here for: Tasteful collection of designer bags, jewelry, and shawls.
Castellano
c/ Almireceros, 6
Go here for. Jamón serrano, region wines and brandies, and other Granada food and drink items.
La Alcena de Salinas
c/ Almireceros, 5
Go here for. Jamón serrano, region wines and brandies, and other Granada food and drink items.
La Casa de los Tés
c/ Caldería Vieja, s/n
Go here for: Exotic teas, herbs, spices, incenses, and more.

La Alcena
c/ San Jerónimo, 3
Go here for: Typical Andalucían products like olive oils, wines, and cheeses.