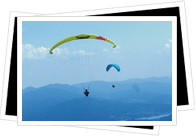 Skydive in Granada
Let's face it- there's nothing quite like plummeting towards the earth in a complete freefall to get the adrenalin pumping. For the adventurous types seeking the ultimate thrill ride, this is your opportunity. There are two main "drop zones" within driving distance of Granada. Check out Ocio Aventura Granada or Skydive Spain, two of Andalucía's reputable skydiving companies.
Ocio Aventura
c/ Nueva de la Virgen, 17 Local
18005 Granada
Tlf: 958 26 10 50 or 958 26 46 00
Operates out of Córdoba Airport
Skydive Spain
Apartado de Correos, 66
Bollullos de la Mitación (Sevilla province)
41110 Sevilla, Spain
Tlf: 687 72 63 03
Operates out of Aeródromo La Juliana
Paraglide in Granada
For adventure seekers who want the spectacular views and the airborne experience but without testing the forces of gravity, the Sierra Nevada is one of Europe's premiere sites for paragliding. In fact, it even hosted the Paragliding Championships back in 2001! Aside from skydiving, Ocio Aventura (listed above) also offers a variety of other "active tourism" activities, paragliding included. For another Granada paragliding company look up Horizonte Vertical, a well-known paragliding school and club, for an absolutely breathtaking experience.
Ocio Aventura
c/ Nueva de la Virgen, 17 Local
Granada
Tlf: 958 26 10 50 or 958 26 46 00
Horizonte Vertical
Sierra Nevada (Granada province)
Tlf: 958 30 82 91