Highlights:
LAS CUEVAS (Caves)
MURALLA ÁRABE (Arabic Wall)
ABADÍA DEL SACROMONTE (Sacromonte Abbey)
Naturally the caves- which begin off the Camino de Sacromonte- of Granada's Sacromonte district are the main touristic draw. Dug into the mountain centuries ago by Granada's still-present gypsy population, the majority of the caves are still inhabited or used as flamenco venues, bars, and even hotels- although of course nowadays they have been upgraded and have all the normal modern amenities.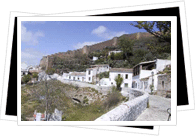 Along the ancient Muralla Árabe (Arabic Wall) you'll find another series of centuries-old caves. Most were deserted after a flood back in 1962, but this zone of Sacromonte offers stunning views of the surrounding landscape, of Granada, and of La Alhambra.
At the very top the Sacromonte hill, literally meaning Sacred Hill, you'll find the early 17th century Abadía del Sacromonte (Sacromonte Abbey). The abbey was built upon the spot where treasure-diggers came across a series of plaques with the epigraphs of three saints- Tesifón, Cecilio, and Hiscio- who were persecuted by the Roman Emperor Nero.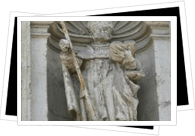 Written in Arabic, the plaques led many to believe that Saint Cecilio, Granada's first bishop and patron of the city, was of Arabic origin. For this reason, many believe that the discovery was faked by the men- who themselves were of Islamic descent- who allegedly came across them as a ploy to lessen the persecution against Granada's Islamic population. Regardless of whether the history is true or false, the courtyards, artwork, church, spectacular views, and underground crypt (where Saint Cecilio is enterred) make the Sacromonte Abbey a touristic must.