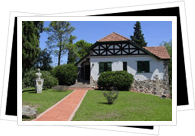 Museo Manuel de Falla
(Manuel de Falla Museum)
Paseo de los Mártires, s/n
Tlf: 958 22 21 88
Delve into the world of Granada's most famous 20th century composer, Manuel de Falla, in this house-museum. From his piano where he created his masterpieces right down to his dishes upon which he ate his dinners, a tour of his marvelous Granada home- which remains exactly as it was while he lived there- really gives you a taste of the life and times of the internationally renowned musician. Plus, on certain weekend evenings it hosts concerts of his brilliant work- don't miss it!
Museo de Artes y Costumbres Populares
(Museum of Popular Arts and Customs)
Casa de los Tiros
c/Pavaneras, 19
Tlf: 958 22 10 72
Set in a 16th century Renaissance building, the Museo Casa de los Tiros was founded in 1921. Today it features everything from Baroque sculptures and 17th through 19th century paintings to engravings, furniture, and fabrics from throughout Granada's history. Two fascinating parts of the museum are the photograph collection, featuring photos of the city and its monuments throughout the ages, and the newspaper archives which span centuries.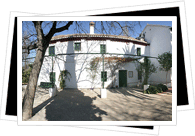 Casa Museo de Federico García Lorca
(House-Museum of Federico García Lorca)
Huerta de San Vicente
c/ de la Virgen Blanca, s/n
Tlf: 958 25 84 66
Set in his residence, get a glimpse of Federico García Lorca's personal effects, drawings, paintings, manuscripts and much more in this house-museum. Between 1926 and 1936, the year he was killed by National forces during the first year of the Civil War, Granada's famed writer, poet and playwright wrote some of his best works, including La Casa de Bernarda Alba (The House of Bernarda Alba), within these very walls. For Spanish literature buffs the Casa-Museo de Federico García Lorca is not to be missed!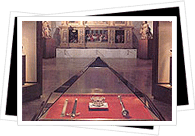 Museo de la Capilla Real
(Royal Chapel Museum)
Sacristy of the Capilla Real
Tlf: 958 22 78 48
It's only appropriate that this collection of the Catholic Monarchs' personal effects be set within the walls of the Capilla Real- mere steps away from where the royal pair are interred. Wander through the collection- most of which belonged to Isabel- which includes her jewels, books, tapestries, paintings, crowns, sceptors, and even the original banner that the monarchs waved as they entered the city in 1492. Of particular note is Isabel's collection of stunning Flemish artwork, featuring outstanding maestros as well known as Rogier Van der Weyden.
Centro Interpretación del Sacromonte
c/ Barranco de los Negros, Sacromonte
Tlf: 958 21 51 20
For those who are curious about the life and times of the traditional gypsy population that has lived upon Sacromonte for centuries, the Centro Interpretación del Sacromonte is a museum offering a wealth of information, displays, and even recreated cave dwellings.
Museo de la Abadía del Sacromonte
(Sacromonte Abbey Museum)
Camino del Sacromonte
Tlf: 958 22 14 45
Sitting atop the Sacromonte hill is the Abadía del Sacromonte (Sacromonte Abbey), which itself has a museum boasting a unique and rather eclectic collection of artwork, books, and ancient copper plates- one of which depicts the oldest map of Granada. Plus, the view overlooking Granada and the Alhambra is fantastic- well worth the hike up!