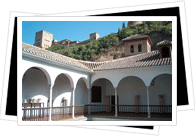 Museo Arqueológico de Granada (Granada Archaeological Museum)
c/ Carrera del Darro, 41
Tlf: 958 22 56 03
Learn all about the first chapters of Granada's extensive- and that's an understatement- history at the city's Archaeological Museum. Set in a Renaissance mansion with a stylized and purely plateresque façade, the museum covers everything from Granada province's paleolithic era up through its centuries under Islamic rule. Along with the typical pots and jugs, browse the finds from a nearby necropolis, find out how early settlers fashioned tools and weapons, and learn about the cave where 12 cadavers were found in a semicircle around a single female- all of them surrounded by treasures. The real pride of the museum is the Islamic display, featuring an astrolab that proves just how scientifically ahead of their time the culture was. The Moors used it to orient mosques' mihrabs to face precisely east towards Mecca.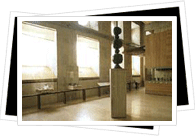 Museo de la Alhambra (Alhambra Museum)
Palacio de Carlos V, First Floor
Tlf: 958 02 79 31
To get a sense of just how lavishly La Alhambra was originally decorated, the Alhambra Museum is a must. The museum features an extensive collection of artifacts celebrating Muslim art and culture through Nasrid ceramics, paintings, carvings, furniture and more. The shining star of the museum, however, is the elaborate "Alhambra Vase." Standing at almost one and a half meters tall, it was fashioned of local red clay by an anonymous Islamic artist, enamelled in blue and gold, and depicts gracefully leaping gazelles.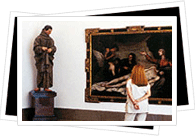 Museo de Bellas Artes (Museum of Fine Arts)
Palacio de Carlos V, Second Floor
Tlf: 958 57 54 50
Situated on the second floor of the Palacio de Carlos V- right above the first floor's Alhambra Museum- is the impressive Museum of Fine Arts. Totally underrated, the collection of 16th century Renaissance through 20th century Vanguard painting and sculpture is often outshadowed and forgotten because of its location within one of Spain's most famous monuments. Featuring artists primarily from the Granada region, some of the great maestros you'll come across are Diego de Siloe, Alonso Cano, Pedro de Mena, and brothers Diego and José de Mora.