If you're looking to save a little cash during your trip to Granada, budget accommodations are a great way to start. Plus, in a city like Granada where life consists of being out and about in the city streets, all you really need is a place to leave your suitcase and get some occasional shut-eye!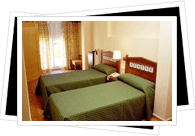 In your search for budget accommodations, you're likely to come across three main options: an "albergue juvenil", a "pensión", or a "hostal" (hostel). Don't be surprised if you walk into your room and realize that there's no bathroom- these three accommodation options often either have communal bathrooms or charge more if you want a private one. An albergue is the most basic and therefore the cheapest option of the three, followed by a pensión which is indicated by a blue sign with a white "P." Many albergues also have the added benefit of offering discounts for groups or for long stays.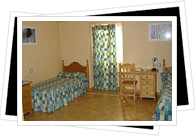 The next step up before hitting hotel status is a "hostal," indicated with a blue sign with a white "Hs." Hostels are essentially the bridge the most basic accommodations (albergues and pensiones) and hotels. Hostels, much like hotels, have a rating system; a hostel can have one, two, or three stars. Something to keep in mind when weighing your options and deciding upon accommodation is that a three-star hostel is about equal price-wise with a one-star hotel.
You can find a great option in the "hostal" category here: Granada Rooms. GranadaRooms.com offers you the best possible location right in the city center, and almost every room boasts a private bathroom. If you're looking for a clean, young, international and relaxed setting, you've found the spot! www.granadarooms.com
Where else to look for budget accommodations? They certainly aren't hard to find. Most albergues, pensiones, and hostels can be found near any Spanish city's main tourist areas. Cathedrals, for example, are typically a magnet for budget accommodations- just check out the streets nearby and you're likely to come across a multitude of them. In Granada, aside from the cathedral area you're also sure to find tons of budget possibilities spread throughout the Albaicín.