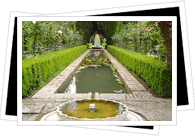 Inspired by the Koran's decription of paradise, the walk through the Generalife is truly like strolling through heaven on earth. Constructed in the 14th century, the extensive gardens maintain the shaping given to them by the clearly genius Islamic architects.
The gardens were constructed along with the summer palace, together forming a complex removed from the Alhambra made for leisure and relaxation. While the airy summer palace is definitely worth a visit, the gardens are the real star of the Generalife. Shady footpaths, flower beds, rose bushes, orchards, and gently bubbling fountains bask in the light scent of jazmine.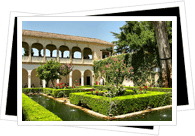 Two of the Generalife gardens' highlights are the Patio del Ciprés de la Sultana and the Patio de la Acequia. According to legend, an Islamic king discovered that his wife (la sultana) and an Abencerage nobleman had fallen under the romantic spell of the Patio del Ciprés. Needless to say, the king was none too happy about his wife's activities and had the young man, along with the rest of his Abencerage clan, killed in a surprise massacre in an Alhambra room whose name refers to that very event.
As for the Patio de la Acequia, the enclosed garden within the summer palace structures features honeysuckle vines, lush vegetation, and a long pool with fountains that spurt delicate arches of water. As the Generalife's most representative courtyard, it's not to be missed!