Highlights:
BAÑOS ÁRABES (Arab Baths)
MIRADOR DE SAN NICOLÁS (San Nicolás Viewpoint)
REAL CHANCILLERÍA (Royal Chancery)
IGLESIA DE SAN JUAN DE LOS REYES (San Juan de los Reyes Church)
IGLESIA DEL SALVADOR (Salvador Church)
CONVENTO DE SANTA CATALINA (Santa Catalina Convent)
As Granada's impeccably preserved Islamic quarter, the Albaicín is chock-full of stops to quench your touristic thirst. So grab a map and your camera and dive right into the web of Arabic palaces, fortresses, homes, converted churches, and more. Still surviving are the original walls of the first Alcazaba, the fortress used before the construction of La Alhambra, as well as the exquisite Palacio de Dar Al-Horra, King Boabdil's mother.
Once upon a time, the area was brimming with Islamic mosques- most of which were reconstructed as churches. However, most of them still preserve Islamic elements such as minarets-turned-bell towers, courtyards, and fountains. The San Juan de los Reyes, Salvador, and Santa Ana churches are just a few of the many fascinating examples throughout the Albaicín.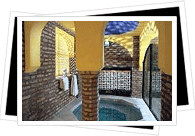 One underrated stop in the Albaicín is the Baños Árabes, the centuries-old Moorish bath complex. Featuring brick-vaulted rooms, typical Islamic star-shaped skylights, the original bathing pools, and columns making use of ancient Roman and Visigoth capitals, you'll be glad you paid it a visit to this focal point of traditional Islamic life.
Sprawling up the hill across from La Alhambra, you can easily imagine that the views from the Albaicín don't disappoint. However, many a postcard features the view from the Mirador de San Nicolás (San Nicolás Viewpoint). Set close to the San Nicolás Church, the panorama of La Alhambra set to a background of snow-capped Sierra Nevada mountains make the hike up the steep hill well worth it.