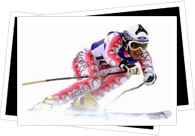 Located a mere 30-minute car or bus ride from downtown Granada is the Sierra Nevada, home to the highest peaks of the Iberian Peninsula. Each year, thousands of locals and tourists take to the slopes of the Sierra Nevada, whose top-notch ski resort goes by the same name. Offering tons of on-mountain services, excellent grooming, 19 lifts, and over 40 trails, the Sierra Nevada caters to everyone ranging from apprehensive novices to experts who confidently slalom their way down the 3,398 meters (11,148 feet) from the peak to the base.
The world-class resort, which by the way has hosted the World Alpine Ski Championships, also has a couple of special features that put it at the top of its class. With the booming popularity of snowboarding, the resort has special trails for snowboarders, one of which features a massive half-pipe for anyone who is feeling adventurous. Plus, who says that skiing is a day-time sport? In the Sierra Nevada, there are several trails that host night skiing!
If you're travelling and just couldn't wedge your skis, poles, and boots into your suitcase, fret not! Right at the ski resort you can rent everything from snowboards to ski poles, mittens, and snow pants.
Sierra Nevada Ski Resort
Cenes de la Vega
Sierra Nevada (Granada)
Tlf: 902 70 80 90