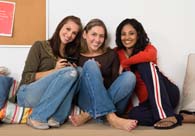 At our Enforex Spanish school in Granada, we understand that your accommodations can make or break your study abroad experience. That's why all of the accommodations we offer students have been carefully evaluated by staff members using a strict approval process.
If you choose to book your accommodations through us, Enforex Granada has three possible housing options. What's more, all of our accommodations are located no more than a half-hour from the school, whether on foot or via public transportation.
Below you can see the different accommodation options available for Enforex Granada students.
Host Family
Living with a Spanish host family has endless benefits. One of the major benefits is that the family will converse with you exclusively in Spanish, which provides you with an authentic environment in which to practice what you learn in class. Another top aspect is that you will undoubtedly acquire a profound understanding and first-hand knowledge of Spain's culture, traditions and way of life.
Student Apartment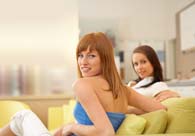 The student apartment option is a great choice if you are looking to live with other international students in an open, multicultural and fun atmosphere. While our flats aren't luxurious, they are furnished and fully-equipped to handle all of your needs. Each apartment has a kitchen fully-stocked with a microwave, pans, cutlery and everything you might need to prepare your own food.
Student Residence
If you choose the student residence option, you are guaranteed to meet international and - in some cases - Spanish students in an atmosphere that is both fun and stimulating. You will be able to choose either a single or double room and a half (breakfast & dinner) or full (breakfast, lunch & dinner) board meal plan.
Enforex Granada has 4 different types of residences. Availability in each type may vary depending on the time of year.
University Campus Residence
Enforex Student Residence
Family Style Residence
Student Residence without Board
Private Accommodation: Hotel, Hostel, Apartment...
Students who prefer a more independent lifestyle often opt for private accommodation. The city of Barcelona is a major destination, which results in hostels, hotels and apartments of all sizes and price ranges. If you would like our assistance in arranging a hotel room or apartment for your stay, we have several options specially available to our students. For hotels, you can choose between a single or double room, and for apartments you can choose up to 4 person apartments, either standard or premium.